Share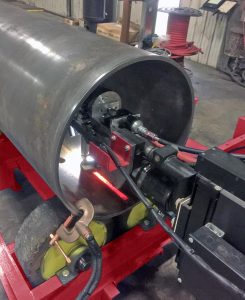 A metal fabrication company located in Charlotte, North Carolina received an order for 300 small I.D. vessels for titanium molds. At the time they were using FCAW and back gouging the inside and outside of the vessels to achieve 100% penetration. On average they were producing 2 vessels per hour with 2 welders.
They reached out to Red-D-Arc to find a faster and more efficient way to produce these vessels. After discussions with Red-D-Arc the fabricator decided to purchase a bespoke submerged arc system.The custom designed system came complete with a small I.D. sub arc welding head mounted on a 9'x9′ column and boom, flux recovery system, NA5R automatic wire feeder, DC600 multi-process welder and 5 ton rotators. The system also included a laser and camera for precise control and monitoring of the submerged arc welding process.
The submerged arc system increased productivity by 250%. They were able to produce 5 cans per hour with half the labor cost. The safety of the work place was also significantly increased for a number of reasons:
• Back gouging was eliminated which in turn reduced the risk of fire
• Rotators replaced manual rotation of the vessels on tables
• Welders no longer had to weld inside the confined space of the vessels
The customer and the Red-D-Arc team were beyond pleased with the results. The customer plans to purchase two more of these systems for future projects.
Submerged arc welding can increase the efficiency and quality of many industrial welding projects regardless of the size or complexity. Red-D-Arc has all the equipment, expertise and experience to provide you with a submerged arc system to fit your needs – available for sale, lease and rent.