Dry Ice Blasting Provides Speedy Restoration for University Garage
Share
Disaster Remediation for Fire-Damaged Property
Red-D-Arc provided high pressure 200 psi/375CFM compressors, dry ice cleaning machines, ice, and on-site operator/safety training to labor crews in a time-constrained situation as part of emergency management and response effort to address a university garage fire disaster in Houston.
The dry ice cleaning process was used to clean up soot and carbon contaminated surfaces bringing it back to pre-disaster condition. Through the expert support of Red-D-Arc's Dry Ice Blasting Team the customer was able to compress cleaning time-frames and complete the project in less than a week enabling the critical service delivery infrastructure to get back to the educational community in a short period of time.
Red-D-Arc Solution: Dry Ice Cleaning for Rapid Restoration
Structure fires, where a building or structure has caught fire, can wreak havoc to its walls and most other surfaces. It leaves behind a musty odor on charred surfaces. The resultant soot also contains a combination of toxic residue, which may be particularly hazardous to health.
Dry Ice Blasting (DIB) or CO2 Blast Cleaning is a preferred method to remove smoke soot, vaporized synthetic resins, and char from any surface – wood, concrete, brick, or metal while removing the burnt smell that accompanies it.
Using this method is effective as it cleans surfaces without surface erosion and etching that may cause by a typical abrasive blasting solution. This process is also safe for electrical components as no caustics or acids are used, and the area remains free from any residual water damage.
---
The Situation
There had been an incident of fire in the third and fourth floors of the parking garage of an institution of higher education in Houston, which resulted in pervasive soot odor and carbon contamination in the affected space.
Any response to a disaster evokes a profound sense of urgency and coping, and uses resources, equipment, supplies, and funds to recover from the actual damage and reduce its potential effects to the point of elimination.
Quick action was necessary to get the space ready and to bring it back to a pre-loss state
After the fire was extinguished, the situation needed effective damage remediation management with the required compressors and inventory.
Our customer was called in to facilitate disaster response and to deep-clean soot from the contaminated surfaces of the garage.
Quick action was necessary to get the space ready and to bring it back to a pre-loss state.
---
The Decision Process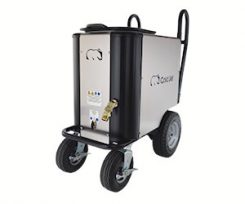 In discussion with our customer, we gathered that overall, a surface area of approximately 15-25,000 sq. ft was damaged by fire. Some areas were to be cleaned with HP water, and about 5-7000 sq. ft, using dry ice. Fast response time was necessary, as returning the parking garage to use was critical.
Red-D-Arc's operations team immediately provided:
• 2 dry ice blast cleaning machines
• High Pressure 200PSI 375CFM After-Cooled Compressors
• 4000 lbs of dry ice
---
Customer Background
Our customer has over 20 years of experience in the disaster recovery industry
Our customer has over 20 years of experience in offering a varied range of services in the disaster recovery industry, including small and large catastrophes, terrorism, natural mishaps, environmental and weather-related events, vandalism, and more. The company has been instrumental in providing a suite of disaster remediation services to domestic and offshore educational institutions, industrial and public sectors, financial companies, businesses, etc.
---
The Result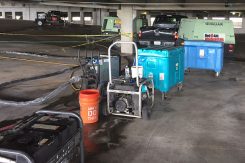 Quick Project Completion – Disaster recovery was finished within a week when Red-D-Arc was able to provide high pressure after-cooled compressors and DIB equipment at the right time.
Speedy Response – Our blast cleaning specialists arrived immediately at the site and provided demonstration and the required training that helped speed up the project.
Significant Savings on Cleanup – The customer was satisfied to get a cost-effective and rapid solution for soot removal and could also eliminate secondary waste.
Safe Industrial Process – Eliminates employee exposure to toxic chemical agents .
Varied Industry Applications – C02 blasting is an effective and non-toxic industrial cleaning method used in diverse applications such as equipment maintenance, weld line cleaning, industrial and electrical cleaning, and more.
Having completed a successful project that saved precious hours, our customer went ahead and updated to this safe and modern technology of cleaning. Our equipment was rented again for a restoration project at a commercial facility.
---
The Salient Benefits of Renting a Dry Ice Blaster
Quick recovery from fire damage
Cost savings on replacement of the damaged property
Restoration of indoors and outdoors
Faster results within a fraction of the time as compared to alternative solutions
Prevention of damage to surface integrity of wiring or plumbing
Superior and safe cleaning of delicate surfaces without disassembly
Elimination of manual cleaning with harmful chemicals, abrasive tools, and water
Fire remediation needs a quick and practical approach to mitigate the losses by saving time taken in restoration.
Red-D-Arc's Cold Jet Dry Ice Blasting Cleaning Machines come equipped with different capacities suited to our customers' requirements and can handle even the most significant disasters.
---
Gallery: Fire Damage Being Restored With The Help Of Dry Ice Blast Cleaning