Construction Firm Beats Competition With Fast Induction Heating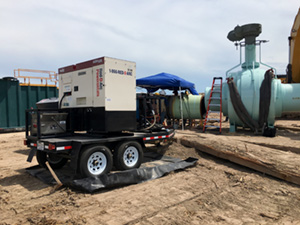 One of our customers was trying to heat 42" diameter pipe using pear burners so that welders could weld out the joints. Our team saw an opportunity to create a solution that would help our customer get the job done much more quickly. To make this in-the-field heating job go faster, we put together a package including a Miller ProHeat 35 induction heating system, a 60kVA generator and a DP25 power distribution panel.
With this setup we were able to get the pipe up to 250 degrees in about 5 minutes. Our customer was able to beat the competition's target time by over 19 hours and has been asked to quote on other pipeline work for their client. Needless to say they were pleased with the solution and the opportunity for extra work it created.
This portable induction turnkey package is a great way to heat pipes in remote locations. There is less risk to the welders from the hot pipe and the process is much, much faster.
Custom turnkey packages like the one described here are Red-D-Arc's specialty. Our team of experts has created turnkey solutions to solve challenges in diverse industries including, mining, oilfield, offshore, nuclear and manufacturing. We enjoy helping our clients find new ways to grow their businesses, by combining the latest technology, depth of experience and flexible leasing options that fit their needs.
Working Remote
Remote worksites pose no obstacle. We'll bring portable generators with enough power for your portable welders, induction heaters, lighting and anything else that needs power.