Share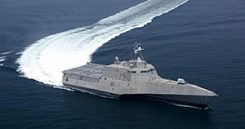 A Red-D-Arc customer recently won a large naval defense contract that would require a substantial amount of hard automation equipment. This shipbuilding company was able to leverage Red-D-Arc's Welderlogistics Lease program to acquire new weld automation equipment for the duration of the defense contract. With the help of over 200 pieces of leased equipment now in their fleet, this customer has grown their business considerably, and without the need for large capital expenditure.
Leasing equipment has many advantages for organizations that want to expand their business by bidding on large contracts, without the risk of tying up capital in depreciating equipment.  All leased equipment comes with a full factory warranty for the duration of the contract and will be repaired or replaced without charge in the event of breakdown.
Contact us today to learn more about growing your welding fleet through our leasing program.
We carry a range of welding positioners, column and boom sets, rotators and other weld-automation equipment.
---