Share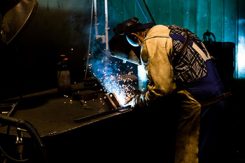 By guest blogger David H.
Some years back I was working in a shipyard in San Francisco. The yard had several small repair jobs going, plus a fairly large project building six ocean-going barges. The supervisor who was in charge of the barge-building project was looking for volunteers to operate semi-automatic wire feeders, using flux-cored wire, to weld stiffeners to the skin of the barges. I had never used a wire feeder before, so I volunteered out of curiosity.
After a very short training period, possibly all of 30 minutes but I think a bit less, I was off and running. I was impressed by the quality of the welds and the speed at which they were deposited. Without question I was outpacing anything that could be done by stick welding, and I felt it was easier to maintain a uniform weld size too. The machine itself was light enough and small enough to move without difficulty, and the spools of wire lasted long and were quick and easy to replace when the spool of welding wire was finished.
Red-D-Arc has nearly a dozen semi-automatic wire feeders available for almost any application. We also carry fully automatic wire feeders, which are faster still and appropriate in certain circumstances – like building storage tanks –  especially for large-deposition welds.
Red-D-Arc Welderentals™ an Airgas company rents and leases welders, welding positioners, welding-related equipment, and electric power generators – anywhere in the world. Our rental welders, positioners and specialty products have been engineered and built to provide Extreme-Duty™ performance and reliability in even the harshest environments, and are available through over 70 Red-D-Arc Service Centers, strategically located throughout the United States, Canada, the United Kingdom, France, and the Netherlands, as well as through strategic alliances in the Middle East, Spain, Italy, Croatia, and the Caribbean. From our rental fleet of over 60,000 welders, 3,700 weld positioners, and 3,700 electric-power generators, we can supply you with the equipment you need – where you need it – when you need it.