Share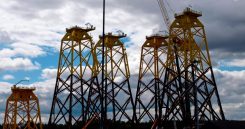 A Red-D-Arc customer based out of the UK was awarded three large offshore wind farm projects …all commencing simultaneously. This manufacturer was comfortable taking on so many large scale, specialized projects because they have a reliable, knowledgeable, tier 1 supplier capable of meeting all of their welding and weld automation equipment needs! Red-D-Arc was able to quickly accommodate all of the welding equipment requirements for the project, providing more than 150 welders and a variety of weld automation equipment. The equipment consisted of multi-operator welding paks, diesel welders, advanced power sources, wire feeders, submerged arc welding packages, and rotators.
Two Red-D-Arc technicians were assigned to the facility to install, service and maintain the equipment to minimize downtime. The facility allocated a permanent workshop and storage container for back-up equipment which could be used to quickly replace any equipment as necessary. With Red-D-Arc's support, the customer was able to work on all three projects simultaneously and avoid lost time due to equipment breakdowns.
Red-D-Arc Welderentals™ an Airgas company rents and leases welders, welding positioners, welding-related equipment, and electric power generators – anywhere in the world. Our rental welders, positioners and specialty products have been engineered and built to provide Extreme-Duty™ performance and reliability in even the harshest environments, and are available through over 70 Red-D-Arc Service Centers, strategically located throughout the United States, Canada, the United Kingdom, France, and the Netherlands, as well as through strategic alliances in the Middle East, Spain, Italy, Croatia, and the Caribbean. From our rental fleet of over 60,000 welders, 3,700 weld positioners, and 3,700 electric-power generators, we can supply you with the equipment you need – where you need it – when you need it.