Share
This article originally appeared in Connector Magazine, Fall 2020 Edition
Erectors can save cost and time by taking this welding technique in-house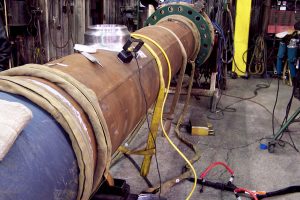 Large steel erection projects commonly require heat treatment for welding because of the thick materials used in structural steel construction. Proper implementation is critical; so often this work is outsourced. The perceived level of expertise to perform this work can make the prospect of using in-house personnel daunting. However, most welding contractors are actually fully capable of performing on-site heat treatment operations.
The two primary methods for heat treating metal are preheating and post-weld heat treatment (PWHT). Preheating is the process of heating the base metal to a specific temperature prior to welding to minimize the temperature difference between the welding arc and the base metal. This process helps to reduce internal stresses that occur as substantial temperature differences between the weld and the base metal normalize, which can cause cracking and distortion. Slowing the cooling rate also allows hydrogen to escape from the weld, which minimizes the potential for cracking.
Red-D-Arc Welderentals™ an Airgas company rents and leases welders, welding positioners, welding-related equipment, and electric power generators – anywhere in the world. Our rental welders, positioners and specialty products have been engineered and built to provide Extreme-Duty™ performance and reliability in even the harshest environments, and are available through over 70 Red-D-Arc Service Centers, strategically located throughout the United States, Canada, the United Kingdom, France, and the Netherlands, as well as through strategic alliances in the Middle East, Spain, Italy, Croatia, and the Caribbean. From our rental fleet of over 60,000 welders, 3,700 weld positioners, and 3,700 electric-power generators, we can supply you with the equipment you need – where you need it – when you need it.