Share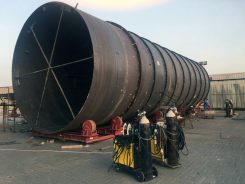 An oilfield equipment and vessel manufacturer in the United Arab Emirates approached Red-D-Arc for assistance with a large project. It was awarded to them at the last minute and was not their primary area of expertise. The requirement was to manufacture 25 large tanks with a timeframe of only one year. Each of the tanks was to be 5 meters in diameter by 25 meters long, manufactured using 16 millimeter thick material at a weight of approximately 45 tonnes.
The experienced Red-D-Arc Weld Automation team was able to immediately address all of the customer's challenges. While other suppliers where insistent that the customer purchase the equipment, Red-D-Arc determined that long term rental would be their best option. This would avoid the time consuming process of acquiring CAPEX approval to purchase such a large amount of equipment and would further increase the profitability of the project. The manufacturer also had questions on how to avoid ovality and transverse movement of the sub-assemblies. Red-D-Arc experts were on-hand to provide the right advice and the right equipment to address these challenges.
The rental equipment included:
• 6x 10 tonne rotator sets
• 10x 60 tonne drive rolls
• 47x 30 tonne and 60 tonne idler rolls
• 7x submerged arc packages with LT7 tractors and D600 power sources
Red-D-Arc worked very closely with the company to ensure their success, providing comprehensive training and on-site assistance. After the successful completion of this project the company has become recognized in their market and are receiving new orders from similar customers in the industry. Furthermore, they anticipate being awarded "phase 2" of this project which is scheduled to begin in 2018.
Red-D-Arc Welderentals™ an Airgas company rents and leases welders, welding positioners, welding-related equipment, and electric power generators – anywhere in the world. Our rental welders, positioners and specialty products have been engineered and built to provide Extreme-Duty™ performance and reliability in even the harshest environments, and are available through over 70 Red-D-Arc Service Centers, strategically located throughout the United States, Canada, the United Kingdom, France, and the Netherlands, as well as through strategic alliances in the Middle East, Spain, Italy, Croatia, and the Caribbean. From our rental fleet of over 60,000 welders, 3,700 weld positioners, and 3,700 electric-power generators, we can supply you with the equipment you need – where you need it – when you need it.