Share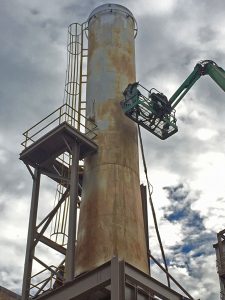 A project manager approached Red-D-Arc with an interesting challenge. Their power plant stack had a failing paint system which needed to be prepped for repainting in order to prevent further corrosion. They needed a method of prepping the surface of the 60 foot tall stack which could be performed without the use of scaffolding and would not produce any residual waste, since it might interfere with sensitive components.
Red-D-Arc's Blasting Specialists suggested dry ice blasting (DIB). Dry ice blasting is an environmentally sustainable cleaning and surface preparation method. It uses dry ice pellets which requires absolutely no clean up, unlike traditional surface preparation methods like grit, HP water and chemicals. Not to mention, dry ice blasting is very fast, effective and inexpensive.
Red-D-Arc offers dry ice blasting systems for rent, sale and lease. The customer decided to rent a Cold Jet A80 HP package complete with nozzle extension, extra hoses, air compressor and dry ice. Replacement equipment was also kept on-site to reduce down time in case maintenance was required. Two members of the Red-D-Arc Blasterentals team provided a one day training program for their staff.
The customer performed intermittent blasting for about one month and were very pleased with the results. So much so that the Project Manager decided to completely remove the failing paint rather than just cleaning it as originally planned. They estimated this method saved them about $40,000 compared to other methods that they had considered.
Visit our Dry Ice Blasting webpage or contact one of our Dry Ice Blasting Specialists to learn more about the many advantages of dry ice blasting.
Red-D-Arc Welderentals™ an Airgas company rents and leases welders, welding positioners, welding-related equipment, and electric power generators – anywhere in the world. Our rental welders, positioners and specialty products have been engineered and built to provide Extreme-Duty™ performance and reliability in even the harshest environments, and are available through over 70 Red-D-Arc Service Centers, strategically located throughout the United States, Canada, the United Kingdom, France, and the Netherlands, as well as through strategic alliances in the Middle East, Spain, Italy, Croatia, and the Caribbean. From our rental fleet of over 60,000 welders, 3,700 weld positioners, and 3,700 electric-power generators, we can supply you with the equipment you need – where you need it – when you need it.