Share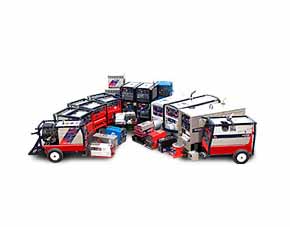 The decision to rent, lease or own welding equipment often depends on utilization rates, amount of equipment required and necessary process capabilities. If equipment will be used more than 60-70% you should consider buying or leasing equipment. If utilization rates are lower than 60%, renting may be the way to go. Renting provides you with immediate access to professionally maintained welding equipment when and where you need it. Red-D-Arc has the most up to date, diverse fleet of rental welding equipment available to accommodate any process or technological requirement.
We are a rental company after all, so let's look at the welder rental option a little further. When renting a welder you pay for actual use, not equipment ownership. Renting minimizes costs associated with maintenance, repair, storage, handling and freight and can provide you with an opportunity to try out new equipment before deciding to purchase. Contractors, maintenance and repair companies, owner-operators and other welding professionals rent from Red-D-Arc because of our fleet size, equipment diversity, expert advice and equipment performance.
Many companies prefer to own their core fleet of equipment and rent additional equipment as required. Red-D-Arc's WelderLogistics Lease Program program is a low cost, flexible option to obtain your core fleet, allowing you to conserve capital and avoid investing in depreciating assests. The WelderLogistics lease program is 100% write-off for tax purposes and the equipment remains under full factory warranty during the lease term. If you already have an existing fleet, simply trade it in for new equipment.