Share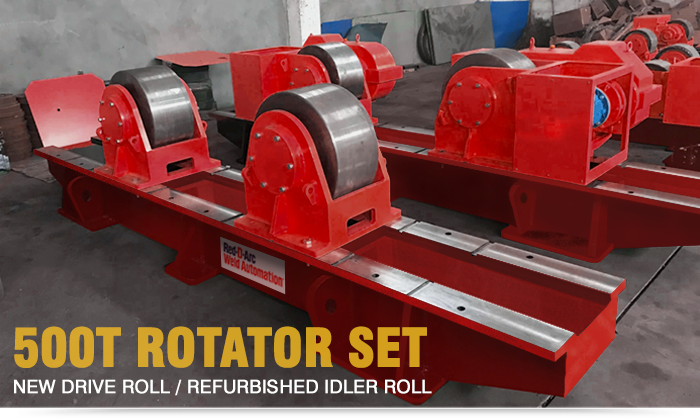 We are currently offering 2 sets of completely refurbished welding rotators (500 Tonne).
Carrying Capacity 500T

2 Complete Systems Available

Delivery Time 10/12 Weeks

3 Month Warranty Included
500T-SET-GA-Refurbished-Welding-Rotator-Set-2.pdf
Pricing:
£ 51,350.00
€ 58,750.00
$ 65,750.00
Contact your local Red-D-Arc branch for more information.
Red-D-Arc Welderentals™ an Airgas company rents and leases welders, welding positioners, welding-related equipment, and electric power generators – anywhere in the world. Our rental welders, positioners and specialty products have been engineered and built to provide Extreme-Duty™ performance and reliability in even the harshest environments, and are available through over 70 Red-D-Arc Service Centers, strategically located throughout the United States, Canada, the United Kingdom, France, and the Netherlands, as well as through strategic alliances in the Middle East, Spain, Italy, Croatia, and the Caribbean. From our rental fleet of over 60,000 welders, 3,700 weld positioners, and 3,700 electric-power generators, we can supply you with the equipment you need – where you need it – when you need it.