Share
Aberdeen: Red-D-Arc has teamed up with the Air Liquide Oil and Gas services branch in Aberdeen to provide turnkey equipment rental packages complete with welders, accessories, welding gases and consumables. Our equipment selection covers all welding processes and other applications such as plasma cutting and fume extraction. Multi-welder paks and induction heating systems are also available.
Call Air Liquide Oil and Gas in Aberdeen for more information +44 1224 877409 MAP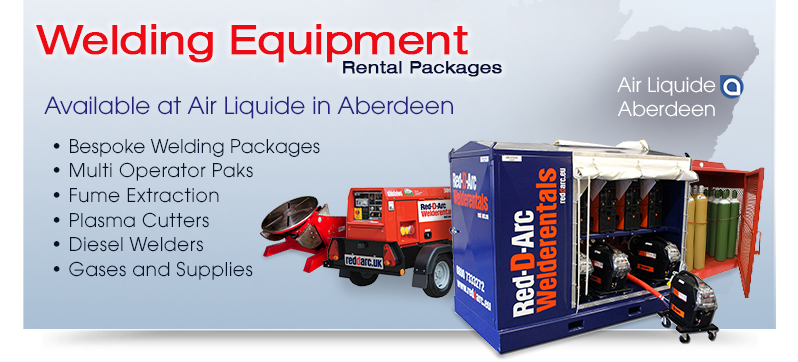 Red-D-Arc Welderentals™ an Airgas company rents and leases welders, welding positioners, welding-related equipment, and electric power generators – anywhere in the world. Our rental welders, positioners and specialty products have been engineered and built to provide Extreme-Duty™ performance and reliability in even the harshest environments, and are available through over 70 Red-D-Arc Service Centers, strategically located throughout the United States, Canada, the United Kingdom, France, and the Netherlands, as well as through strategic alliances in the Middle East, Spain, Italy, Croatia, and the Caribbean. From our rental fleet of over 60,000 welders, 3,700 weld positioners, and 3,700 electric-power generators, we can supply you with the equipment you need – where you need it – when you need it.