Preventing Wire Feed Issues in MIG and Flux-Cored Welding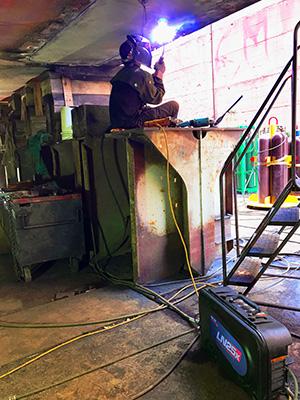 How do I prevent wire feeding issues when using the MIG welding (GMAW) or flux-cored arc welding (FCAW) process?
Wire feeding issues can be caused by a variety of circumstances.  Some of the most common reasons for wire feeding issues include:
Drive roll tension:  The drive rolls that push or pull the wire through the system have a tension that is either too great or too little.  Adjust the spring pressure until tension is appropriate.
Drive roll size: The drive rolls may be the wrong size.  For instance, if 1.3 mm drive rolls are being used to move 0.9 mm wire, slipping will most likely occur.
Drive roll type:  Some wire require specific kinds of grooves for optimal feeding.  Flux-cored and metal-cored arc welding wires typically require V-groove drive rolls that are knurled.  Aluminum wires require a smooth U-shaped groove.
Drive roll condition:  Worn drive rolls will be ineffective at moving wire through the system.
Liner size:  If a liner is too small for the wire it will not feed.  If the liner is too big, the wire may have too much freedom to twist inside of it, causing an unpredictable feed.
Liner type:  For most wires, steel liners work excellent.  However, some wires, such as aluminum, require a nylon liner to help ensure proper feeding.
Liner condition:  A worn liner will be detrimental to wire feeding.  Replace the liner if it is worn or damaged.
Contact tip size:  A proper contact tip size should be used.  If the tip is too small, the wire will not feed; if the tip is too large, wire feeding and electrical conductivity may be negatively affected.
Wire condition:  Not all wire manufacturers put out the same quality product.  Some wires may have thin and thick spots as well as lubricants that can cause poor wire feeding.